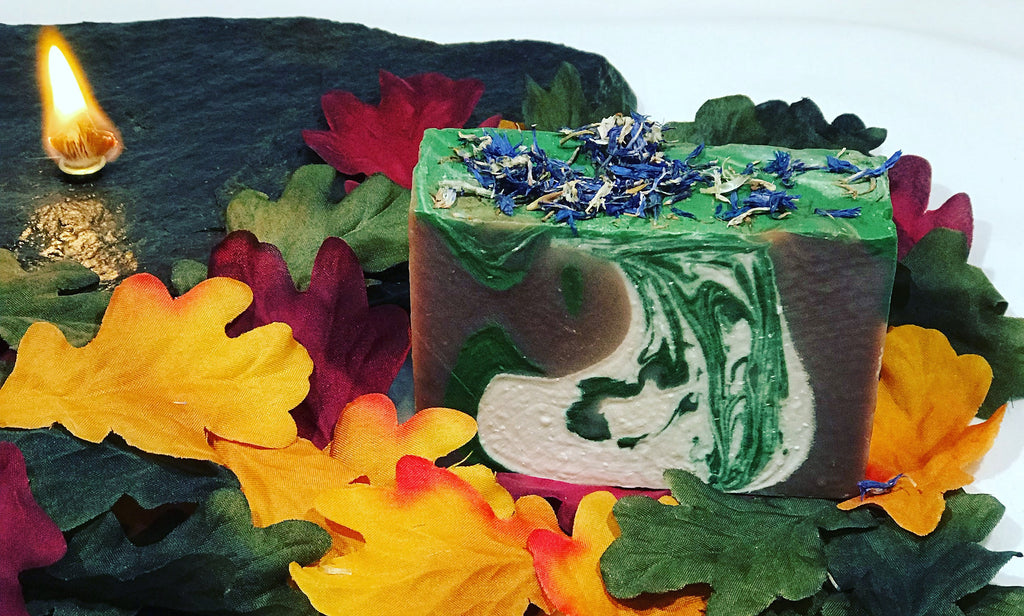 Druid Soap
 Ancient Celtic Druids venerated the earth, nature, and trees, especially the oak tree, which was considered the most magical. Often found intertwined with mistletoe, oak trees were an important part of this Pagan tradition and the scent of oak is the base for this fragrance blend. With a little added vanilla, the colours of mistletoe, and a cornflower frosting, this soap is a tribute to the Druids of old. 
 Fragrance Profile: Vanilla oak. Light Camphor, Italian Bergamot, Cassia Root, Sweet Heliotrope, Soft Amber, Warm Oak, Sandalwood, Patchouli, and Creamy Vanilla. 
Kaleidosoap Handmade soap is made in small batches to maintain quality control and each bar is hand cut and wrapped. Each package comes with a short story or description on the back and a full list of ingredients. 
80 grams

Ingredients: Olive oil, water, coconut oil, sodium hydroxide, castor oil, shea butter, cocoa butter, sweet almond oil, green chromium oxide, titanium oxide, cornflower petals, glitter, parfum.



---
Share this Product
---
More from this collection