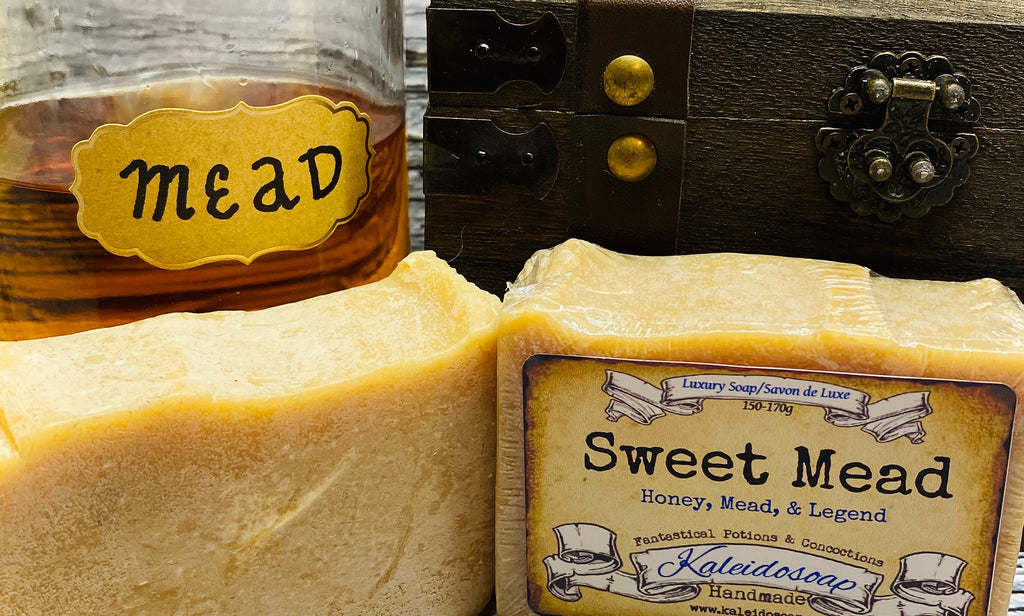 Sweet Mead Soap
The drink of mythic warriors and the cordial of the High Elves, Honey Ale, Honey Wine, or Mead has been the drink of the mysterious and magical for ages. Sweet Mead soap is made with a home brew of sweet Soft Mead and is loaded with pure Nova Scotia Wild Flower Honey and rich pumpkin seed oil. With a foam-like head and the scent of Honeyed ale, this is a moisturizing way to soak up the elixir of the High and the Mighty. Palm oil free.
 Fragrance Profile: Honeyed Ale. A fruity and sweet mixture of Ripe Strawberries, Sweet Apples, Grape Concord, Sparkling Citrus, Honey and Spiced Vanilla.
Kaleidosoap Handmade soap is made in small batches to maintain quality control and each bar is hand cut and wrapped. Each package comes with a short story or description on the back and a full list of ingredients. 
80 grams
Ingredients: Olive oil, water, coconut oil, palm oil, soft mead (honey, water, apple juice), water, sodium hydroxide, castor oil, shea butter, pumpkinseed oil, honey, titanium dioxide, fragrance.

---
Share this Product
---
More from this collection